Juneteenth is approaching, one of the biggest days of the year for the Black community in America. The day our people were told they were no longer legally enslaved in Texas (The last state to announce). Our ancestors started celebrating every year from then on, of course with unmeasurable obstacles, continuing discrimination, and repression. But they endured and they fought for us.
I'm of the opinion that the end of legal-slavery should not be the focus of this day, after all the fact that it ever happened is unforgivable but rather the strength of our people who endured and pushed. We must remember them.
This day can be very confusing for our kids but with a little work and patience, they can celebrate and become fully aware of what is going on. We can turn the negative past into a positive future and make sure our youth grow up regarding it as much more than just a day that the fam eat lots of Barbecue food!
First off, what us Juneteenth?
I have met numerous people who actually have no full idea of what Juneteenth is, we need to understand not only for ourselves but for our youth. In short…
On January 1, 1863, the emancipation proclamation came into effect, abolishing slavery in America however Texas did not accept this proclamation and kept their slaves for another two years until June 19, 1865. More than 200,000 slaves were held in Texas unaware of their freedom until General Gordon Granger along with some union soldiers forced them to free their slaves.
And each year after many formerly enslaved people celebrated this day. It has grown and grown and is now formally celebrated in around half of the U.S. States with yearly calls to make it a nation-wide public holiday.
Singing songs and digging deeper
Kids LOVE to sing and dance, and we do too even if we can be a bit shy about it! Traditionally there are a number of songs people sing on Juneteenth and it would be great to learn these with your children. These two traditional songs are always popular.
Swing Low, Sweet Chariot
Lift Every Voice and Sing
In the case of these two songs and most traditional songs that are sung on Juneteenth, there is a history and meaning to the lyrics. It is a great practice to research the history and lyrics of each song with your children to fully appreciate the songs and what they really mean.
Visiting museums and local events
Many museums and local places with have special Juneteenth programs so it is a great day to get the family out of the house and off the screens. You'll also be mixing with other families and spreading the love.
Check your area for special events and maybe try and swing by a few. Although there may be large state-sponsored celebrations it is always worth swinging by the smaller events at local cultural centers and places that are a little less politically driven (politicians love to exploit this day).
For larger events, National Parks often have excellent events.
Get the kids to pamper the elders
This day is largely about what our ancestors endured. And the elders in our community have gone to hell and back for us. This is an excellent opportunity for our kids (with or help) to show appreciation.
Gather the elders in your family and community and get the kids to arrange some activities with them. It could be that they perform traditional songs. Bake some cupcakes and decorate them with Juneteenth patterns (The Juneteenth flag would be great).
At the end of the celebrations, the elders can tell stories to the children and inspire them to push forward living to the best of their abilities.
Making the cookout a learning experience
We all know that the cookout is one of the most popular events on this day.  It's a great excuse to fill our bellies with an array of Soul Food! BUT we never stop to think about these traditions and especially the origins of the food we come to love and associate with certain days.
This is a great opportunity to not only serve food that has been passed down from generation to generation but also to research its origin and provide little cards next to each plate on the table. Have the kids help with the research, make the signs and act as ambassadors talking to any guests about the food they are eating.
AAReg has a brief history of soul food here to get you started.
Digging deeper into our history
Leading up to Juneteenth and on the day itself, our kids will be in the perfect interest mindset to know more about who we are as people and where we came from.
It is tradition to read works by great people from our past such as Maya Angelou and Ralph Ellison. However, our kids may not even know any of these people so we suggest you get them through a list of some of the people we all need to know about.
A perfect way to do this is by using the Black History Flashcards, Trivia Cards and Playing Cards from our parent company Urban Intellectuals. You can learn more about them here.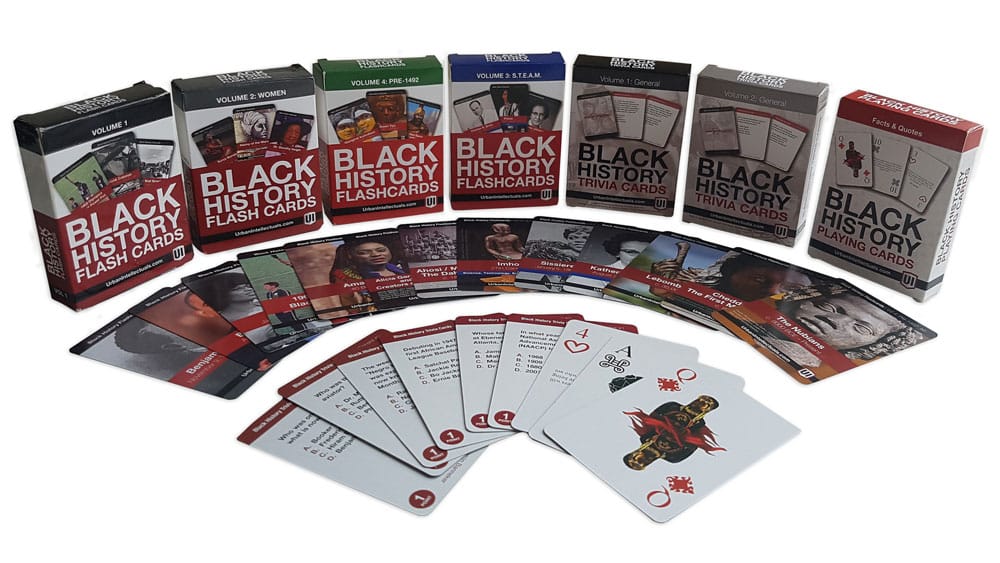 You may even just want to start with the Downloadable FREE Black Women's History matching game available here.
What are your plans?
We hope this article has given you a few ideas and inspiration BUT we would love to hear more from you too about how you intend to celebrate with your kids and what you have done in the past.
Just leave a comment below and get in touch.